Gill 1st Zw-F
Today we took Gill on her very first official blood tracking test. It wasn't easy as alreadynat 50 m , 3 deers crossed the track. She did us extremely proud: the only one today who gained a qualification!!
Thanks to the Weimaraner Association for organizing this day & the other participants for the nice day out!
WSH Bloodtrack Zw-F 500m| 24h
10/11/2019
Mr. H.Kamerlings & Mr. A. Bekkers
Rocco 2nd ZW-E track
Deer track – 24 H,  distance 1000 m
A warm day for such a test and you are first! Not always a ideal starting point. But no problem for Imke and Rocco.
Rocco had no problem following the track, was very concentrated and where awarded with Excellent 85 points & 2nd place.
Well done both of you!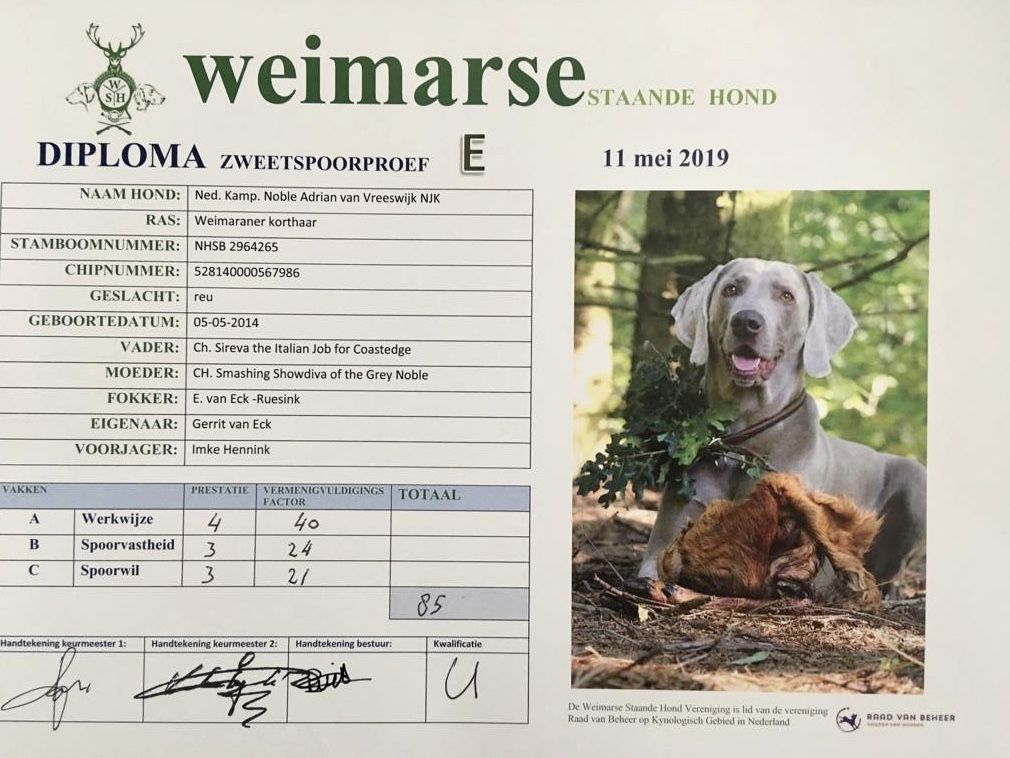 Bloodtracking ZW-E Weimaraner Association
11/05/2019
Mr. J. Feijen
ZW-F Excellent 92/1009
Today Rocco and Imke nailed it! A bloodtrack F with Excellent qualification and 92/100 points;  2nd placing.  They where very close to the CACT, but number 1 was a bit more experienced and therefore consistent on track. Wauw we are so proud of this combination and grateful Imke put so much rewarding energy in it!
WSH Bloodtracking
14/10/2018
R. Onderwater
Moose VJP Weimaranerklub Niedersachsen
Moose worked her socks off!
Together with our good friend Wendy we joined on Friday a great club evening with talks, drinks and food. After an early breakfast Saturdays we started the VJP (German capacity-test). Judges liked very much Moose her working style and field approach together with her pointing skills.  She has been awarded with 69 points, not far from the winner with 73!
1
2
3
4
Volgende »