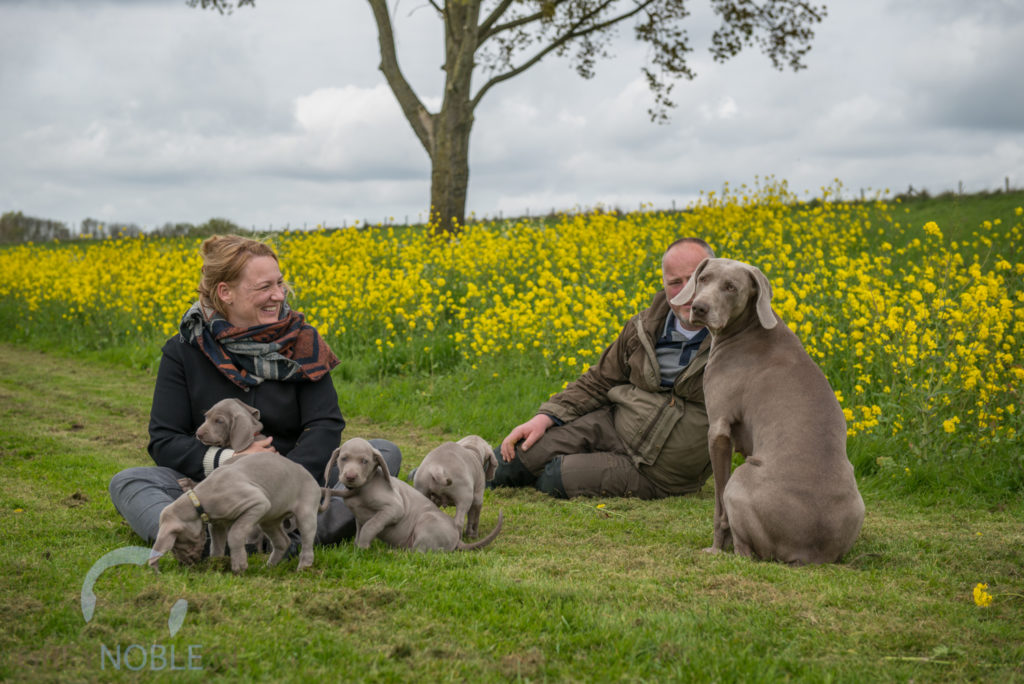 We are living in the pittoresk part of Nieuwegein, the old village Vreeswijk, which is very close to our hunting fields. We both had already different breeds, depending on which type of hunting was available. But the Weimaraner remains, it is a versatile dog with a workable temperament which obliges you to work with & also has a beautiful appearance.
Our dogs are taking a very important place in our family as real family-members. As mentioned, we are active in the practical hunt,  taking our dogs with us and often give other Weimaraners of friends the opportunity to do "the real thing". Recently our grandame Floor passed away, so we have a pack of 4, Evie, Gill, Knox & Moose and a daughter of Moose is co-owned and living at Wendy in Arnhem . The combination of good health, friendly character, excellent exterior & thorough hunting training accompanied by practical hunting experience is our basic vision for breeding Weimaraners. We are of a modest opinion that all kinds of different work qualifications are only an indication of useful hunting skills. Only a hunting practice training with practical experience actually says something about the natural aptitude, there is no distinction between show or work lines. The foundation of our principle of our kennel.
Our first litter of Evie & Rocco was bred under the kennel name "van Vreeswijk", which has confirmed that we are on the right track and the wish to continue matching Sireva lines with ours. We have been a co-owner of kennel of the Grey Noble for more than a few years now. We see this collaboration of added value, for the good of this beautiful breed, so this name will continue to exist in the future, the wish of Gerda.
Our next litter is planned for Spring 2023, for more info check i-Litter page.
Hopefully goodbye!
Esther & Gerrit van Eck
< scroll down for video's & pictures – NL text >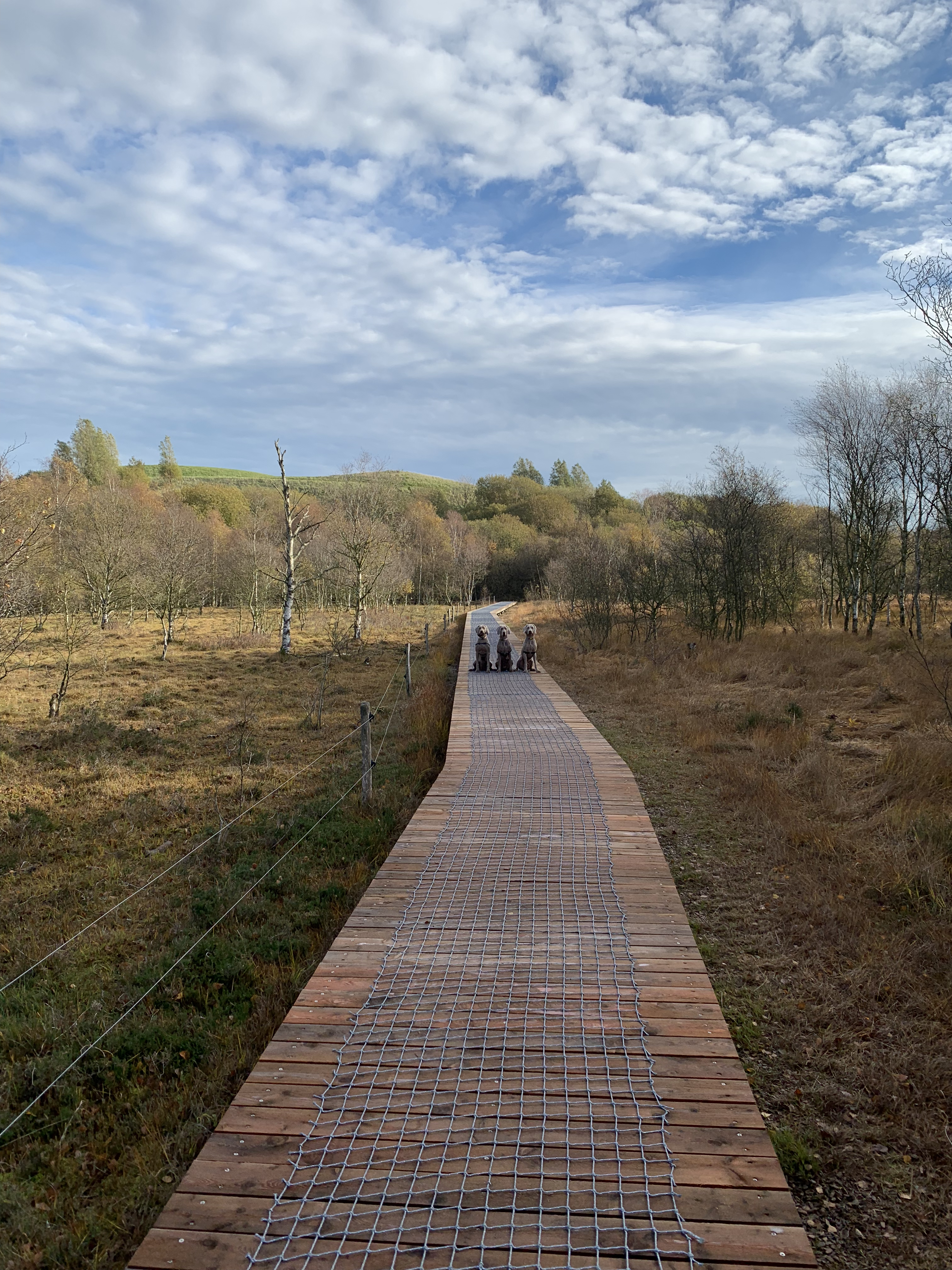 Wij wonen in het bijzondere gedeelte van Nieuwegein namelijk het oude Vreeswijk, wat dichtbij ons jachtveld ligt. We hebben reeds verschillende rassen gehad,  wat ermee te maken heeft welk type jachtveld we op dat moment voorhanden hadden. Maar de Weimaraner blijft, het is een veelzijdige hond met een karakter waar je wat mee moet en kunt, welke ook nog eens een prachtige verschijning heeft.
Onze honden nemen een hele belangrijke plek in ons gezin als echte familieleden. Wij zijn zoals gezegd actief in de praktijkjacht en nemen onze weimaraners erg graag mee. Ook geven regelmatig de kans aan vrienden om hun weimaraners praktijkervaring mee te geven.  Recent is onze prachtige dame Floor overleden en waardoor ons "pack" uit 4 bestaat, te weten; Evie, Gill, Knox & Moose en een dochter van Moose is co-owner door Wendy en woont bij haar in Arnhem.
De combinatie van een goede gezondheid, vriendelijk karakter, uitmuntend exterieur & een gedegen jachtopleiding vergezeld met praktijkjacht ervaring, is onze basisvisie om Weimaraners te willen fokken. Wij zijn van bescheiden mening dat allerlei verschillende werk kwalificaties slechts een indicatie zijn van aanwezige bruikbare jachtvaardigheden. Alleen een jachtpraktijk opleiding met praktijk ervaring zegt daadwerkelijk wat over de natuurlijke aanleg, er is geen onderscheid in show- of werklijnen. Dit geheel sluit prima aan met het algemene uitgangspunt van onze kennel.
Ons eerste nestje van Evie & Rocco is nog onder kennelnaam "van Vreeswijk" gefokt, heeft bevestigd dat we op de goede weg zijn en zeker de  Sireva lijn willen blijven matchen met die van ons. Inmiddels zijn we nu al een ruim aantal jaren mede-eigenaar van kennel of the Grey Noble. We zien deze samenwerking van toegevoegde waarde, ten goede van dit prachtige ras, zo zal deze naam ook in de toekomst voort blijven bestaan, de wens van Gerda.
Wellicht tot ziens!
Esther & Gerrit van Eck
< scroll down voor video's & foto's >
---