---
Info
In het verleden hebben Wim en Gerda altijd veel energie gestoken in het opleiden van hun honden ook voor de jacht. Mooie successen zijn behaald met diverse honden in het KJV werk, maar ook tijdens Duiste jachtproeven VJP en HZP (zie Geschiedenis of the Grey Noble). Recent wist Avon nog een VJP (2015) te behalen. Ze gingen regelmatig mee als voorjager bij jachtcombinaties in de buurt. Ook de Grey Noble "offspring" heeft en laat mooi werk zien.
Wim traint nog steeds met diverse honden KJV en zweetwerk waar mogelijk. Maar aangezien beiden een dagje ouder worden en Gerda ook erg druk is met haar keurmeesterschap is het niet meer mogelijk proeven te lopen.
Avon behaald VJP 2015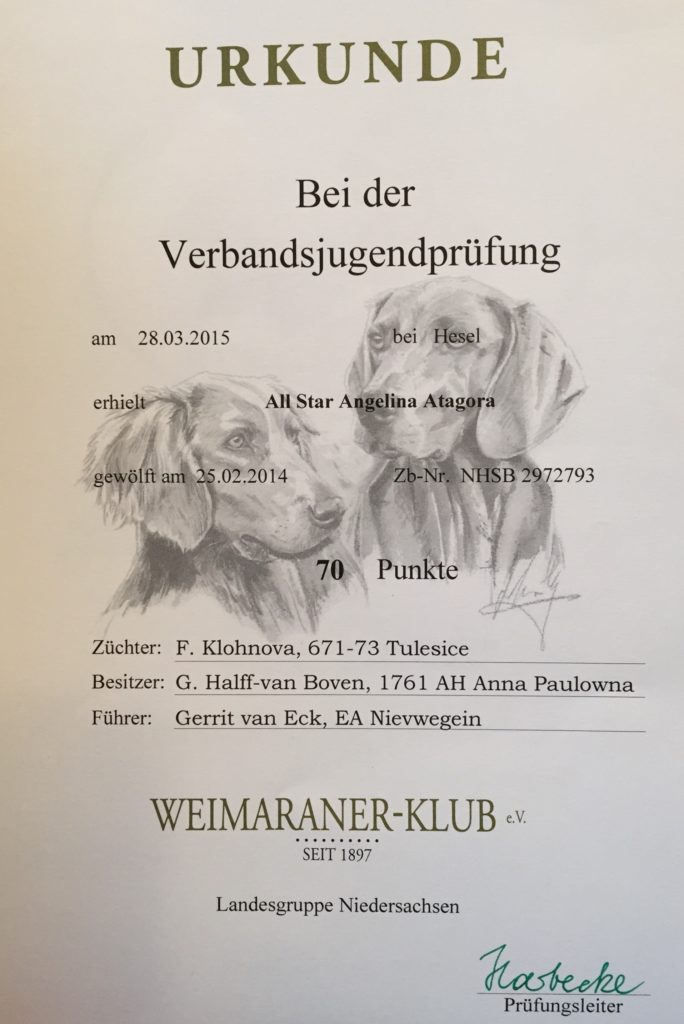 Avon heeft prachtig werk laten zien op deze proef. De keurmeester was lyrisch over haar neus en haalde maar liefst  70 punten en was hiermee de 1 na jongste hond van de dag!
Erg knap dat ze zich zo liet voorjager door Gerrit, immers is Wim haar vaste voorjager.
We zijn dan ook erg trots op haar.
VJP Weimaranerklub Niedersachsen
28/03/2015