ZW-F Excellent 92/1009
Today Rocco and Imke nailed it! A bloodtrack F with Excellent qualification and 92/100 points;  2nd placing.  They where very close to the CACT, but number 1 was a bit more experienced and therefore consistent on track. Wauw we are so proud of this combination and grateful Imke put so much rewarding energy in it!
WSH Bloodtracking
14/10/2018
R. Onderwater
Moose VJP Weimaranerklub Niedersachsen
Moose worked her socks off!
Together with our good friend Wendy we joined on Friday a great club evening with talks, drinks and food. After an early breakfast Saturdays we started the VJP (German capacity-test). Judges liked very much Moose her working style and field approach together with her pointing skills.  She has been awarded with 69 points, not far from the winner with 73!
KJV-C voor Gill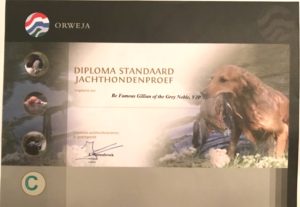 Erg trots dat we samen een een C-diploma hebben weten te halen in dit bewogen jaar.
WSH SJP, Heerle
10/09/2017
Knox behaald VJP
Samen een team!
In alle vroegte vertrokken naar Hesel (DE), om samen met Knox een VJP te lopen. Al gauw bleek  dat de stand hazen en fazanten ook hier aan het afnemen zijn en in combinatie met het mooie weer de combinaties het moeilijk hadden om gemotiveerd te blijven en mooi werk te laten zien. Ook bij onze Knox van net negen maanden was het na de middag op.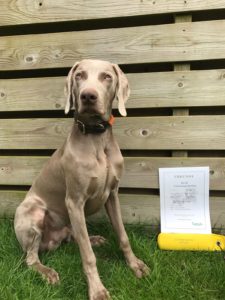 Maar het resulteerde in een diploma met 62 punten waar wij enorm blij mee zijn.
VJP Niedersachsen
25/03/2017
1
2
3
Volgende »